Who doesn't love a good alphabet wall?? For our daughters nursery, we installed a plate rail and leaned the whole alphabet with some numbers against the wall, It's definitely helped her learn her letters faster. You can see her full
Nursery Reveal HERE
. So when I started planning our son's nursery I knew I wanted to incorporate an Alphabet wall in some way. His wall is made up of simple wooden alphabet letters from this Etsy shop
Gallery wood letters.
I just painted the natural wood in Benjamin Moore
Newburyport Blue
to make them flow in his nursery. Lastly I painted stripes on the large A and Z to complete the look.. See it by clicking below..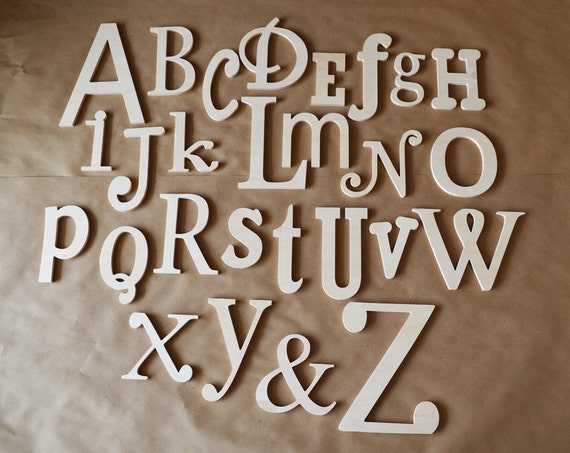 So this is how the letters all started.. painting the basic wooden letters with BM Newburyport Blue paint.. I went back and forth on choosing 'the right' Navy for us. Some were to bright, some almost black.. in the end Newburyport blue was it.
Then came painting stripes on the larger A and Z. I painted them fully with the BM Newburyport blue then once dried I used green frog tape to make stripes. I placed tape in strips, using the tape as the measuring tool/ spacer between stripes. So that the paint didn't bleed, I then painted over the tape edges with my blue paint to seal the edges and allow for perfect stripes. Then once the blue had dried I painted my stripes white. While the paint was still a touch wet I removed the tape. Worked like a charm. Perfect simple white stripes!!
Then came the tough part.. HOW TO HANG THE WOODEN LETTERS??
At first I even debated nailing them into directly into the wall.. Unfortunately they didn't come with hangers on the backs so for some of the larger letters I used gorilla glue and frame hangers and glued them onto the backs of the wooden letters.. Then I decided I can't do this for all the letters as they simply wouldn't fit on some of the letters so my best option was Command picture hanging strips.. they work amazing.. I bought a few multi pack of REFILLS at my local Rona and went to town. I used various sizes depending on the size of my wooden letters.. I always used 2 stickers at least just for extra security. Now you can grab at the letters on the wall and they are stuck!! So far it has been up for over a month with no falls yet..
His Alphabet wall starting to take shape ;)
The finished Alphabet wall.. stylish and educational ;)

Thanks for stopping by.. Have a great week!
Don't Miss a post... Follow me
by
Email
or
Bloglovin
!